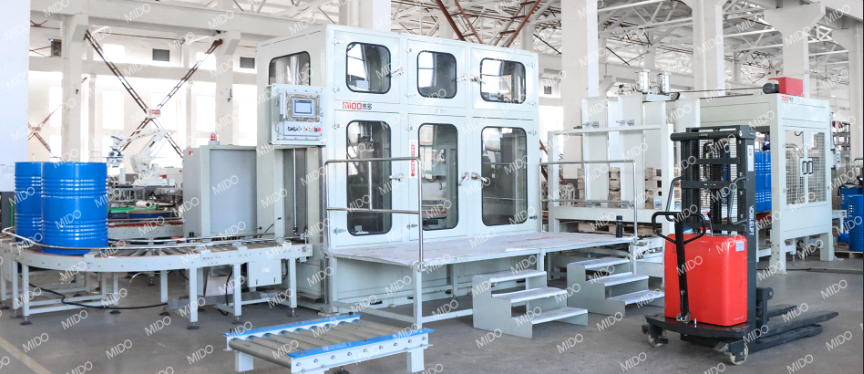 ▼主要特点 / Main features:
---
定位开盖-自动灌装-自动上盖紧盖, 本机专门针对50-300kg的液体桶包装而设计的智能化包装系统,灌装主机部分采用不锈钢环保外框,可视窗,自动移门,灌装时为封闭式;整条线自动完成进桶、移门开、关,自动识别桶口、自动对准桶口、自动开盖、自动灌装、灌装结束自动旋盖。
---
本机采用可编程控制器(PLC)进行控制,触摸屏操作,具有操作方便,生产效率高,适用范围广等特点;本机电气控制部分则由PLC可编程控制器,变频调速器等组成,控制能力强,自动化程度高,采用特殊装置,无桶不灌装,对不准桶口不管装等功能,避免了物料的浪费和污染,使机器的机电一体化 得到了很好的表现。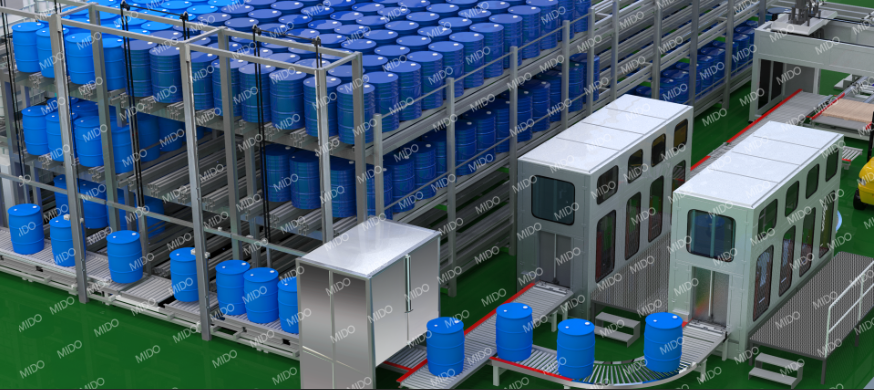 ▼产品功能 / Main features:
灌装时分大小流量分时二次灌装,保证灌装速度和精度,灌装时灌装头插入桶口进行液位上灌装。每批次物料灌装结束后管道内剩余的物料通过吹扫进入灌装容器内,待第二次灌装时桶内的物料继续使用。独特的灌装堵头固定方式确保在控制灌装头开合的气缸上安装有检测开关,灌装头完全关闭前,枪头不提升至桶外,避免物料喷洒至桶外。灌装头额外设计有接料盘,灌装结束后,接料盘伸出,防止灌装头滴落液体污染包装物和输送线体。
称重系统采用高精度称重仪表、确保灌装精度的同时增加结构和运营的稳定性,此外该系统具有防腐蚀、防过载保护装置。
称重系统采用高精度称重仪表、确保灌装精度的同时增加结构和运营的稳定性,此外该系统具有防腐蚀、防过载保护装置。
灌装枪头有顶压桶面的过载保护。具备触碰桶口边缘而导致偏差的保护,在不影响计量的前提下可继续灌装,当影响计量的数值超过设定值时,会有报警保护,可选择继续灌装或人工干预。气管以及下料头密封件等均采用聚四氟乙烯质。
灌装阀所有需清洁部分可以拆开清洗,且所有的清洗工作都很简单。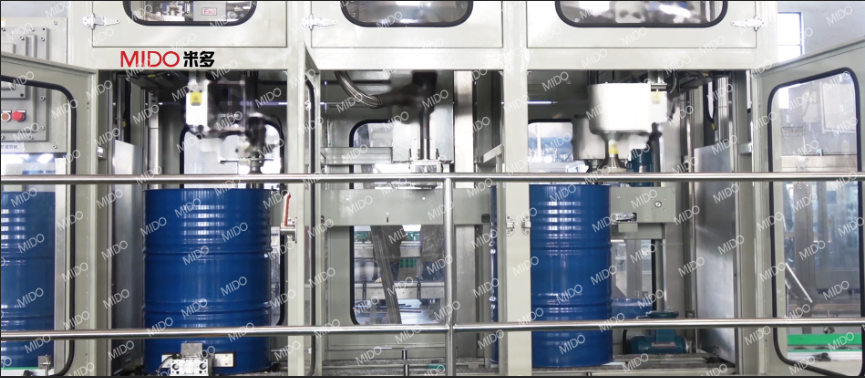 (设备外观会因定制功能或技术升级而有所不同,以实物为准。)

(The appearance of the equipment will be different due to customized functions or technical upgrades. The actual product shall prevail.)
Three stations: positioning and opening-automatic filling-automatic cap feeding and capping
This machine is an intelligent packaging system specially designed for the packaging of liquid drums of 50-300kg. The main machine part of the filling adopts a stainless steel environmental protection frame, with windows and automatic sliding doors. It is closed when filling; the whole line automatically completes the drum. , The sliding door opens andcloses, automatically recognizes the drum mouth, automatically aligns the drum mouth, automatically opens the cap, automatically fills, and automatically caps off at the end of the filling. This machine adopts programmable logic controller (PLC) for control and touch screen operation. It has the characteristics of convenient operation, high production efficiency, and wide application range; the electrical control part of this machine is composed of PLC programmable controller, frequency converter, etc. Strong control ability, high degree of automation, special devices, no drums, no filling, and no drum mouth is not correct, avoiding material waste and pollution, so that the mechanical and electrical integration of the machine has a perfect performance.
The filling time is divided into large and small flow rates and time-sharing secondary filling to ensure the filling speed and accuracy. During filling, the filling head is inserted into the drum mouth to fill at the liquid level. After the filling of each batch of materials, the remaining materials in the pipeline are purged into the filling container, and the materials in the drum will continue to be used during the second filling. The unique fixing method of the filling plug ensures that a detection switch is installed on the cylinder that controls the opening and closingof the filling head. Before the filling head is completely closed, the gun head will not be lifted out of the barrel to avoid material spraying out of the barrel. The filling head is additionally designed with a receiving tray. After the filling is completed, the receiving tray extends to prevent liquid from the filling head from contaminating the packaging and the conveying line.
The weighing system uses high-precision weighing instruments and Toledo weighing sensors to ensure filling accuracy while increasing the stability of structure and operation. In addition, the system has anti-corrosion and anti-overload protection devices. The sensor is IP68 protected, and the sensor is easy to install, disassemble and repair. The accuracy of the weighing system is controlled by a high-precision weighing instrument, and the accuracy of small flows can be fine-tuned.
The filling head has overload protection against the drum surface. With protection against deviation caused by touching the edge of the drum mouth, filling can be continued without affecting the measurement. When the value that affects the measurement exceeds the set value, there will be alarm protection, and you can choose to continue filling or manual intervention.
The air pipe and the sealing parts of the discharging head are all made of PTFE.
All parts of the filling valve that need to be cleaned can be disassembled and cleaned, and all cleaning tasks are simple.
▼主要技术参数 / Main technical parameters
• 防爆类型:Exd ii BT4 / Explosion-proof type: Exd ii BT4

• 输送形式:双排链 / Conveying form: double-row chain bearing

• 最小称量值:50g(0.05Kg) / Minimum weighing value: 50g (0.05Kg)

• 工位功能:开盖、灌装、旋盖 / Station function: opening, filling, capping

• 灌装速度:≥40桶/小时(具体取决于来料的粘度、流量、压力等因素

• 灌装精度:±200g / Filling accuracy: ±200g

• 适用桶型:200L塑料桶 / Applicable drum type: 200L plastic drum

• 灌装接触材质:SUS316 / Filling contact material: SUS316

• 主体材质:SUS304 / Body material: SUS304

• 密封垫片:聚四氟乙烯 / Gasket: PTFE

• 泵体:用户配备(供方灌装设备控制泵的运行)/

Pump body: equipped by the user (the supplier's filling equipment controls the operation of the pump)

• 电源功率:380V/50Hz;4KW

• 承受重量:500.00Kg / Weight: 500.00Kg

• 灌装范围:100.00∼300.00Kg / Filling range: 100.00∼300.00Kg

• 灌装类型:液面上灌装 / Filling type: filling on liquid surface