▼整机尺寸:
整机尺寸(长×宽×高):2100mm×1600mm×2650mm
Overall dimensions (length×width×height):2100mm×1600mm×2650mm
▼技术参数Technical Parameters:
2.1、本机的各主要技术参数 / The main technical parameters of this machine
灌装容器口径:≥Φ50mm(可定制)/ Filling container caliber:≥Φ50mm (customizable)
灌装容器直径:Φ500mm-700mm(可定制)/ Filling container diameter:Φ500mm-700mm (customizable)
灌装容器高度:900mm(根据客户要求定制)/ Filling container height 900mm(customized according to customer requirements)
灌装容量:200L / Filling capacity:200L
灌装误差:≤±0.2% (以水为介质)/ Filling error ≤±0.2% : (using water as medium)
灌装头数:2 / Number of filling heads:2
生产能力 :≤100桶/小时 / Production capacity: ≤100 drums/hour
需备功率:2.5KW / Required power:2.5KW
2.2、设备工作要求 / Equipment working requirements
电源:380V 50Hz / Power supply:380V 50Hz
需备气源:0.6MPa洁净稳定气源 / Need to prepare air source:0.6MPa clean and stable air source
工作环境: 应隔离强电磁场源 (严禁用于潜在爆炸的环境)
Working environment:should isolate the source of strong electromagnetic field (it is strictly prohibited to use in potentially explosive environment)
▼工艺结构组成:
Process structure composition
1.1、本机主要由电控系统、称重系统、输送装置、光电检测、灌装装置、传动系统等部分组成。
1.2、电器控制部分则由PLC可编程电脑程序控制器,变频调速器组成,集成度高,控制能力强,运行可靠。应用触摸屏技术,使机器的操作更可靠、方便,人机界面更加友好。光电传感器、编码器等根据客户要求定制。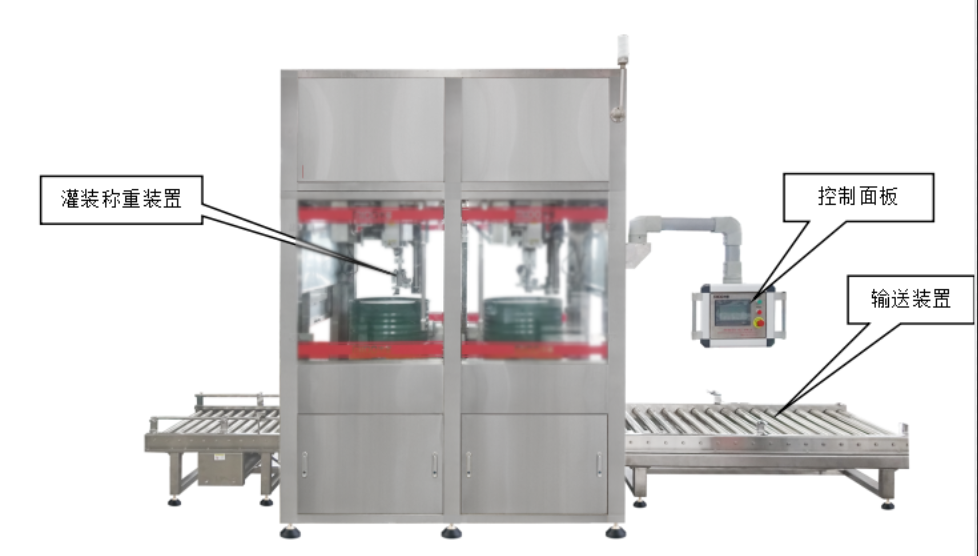 ▼Describe:
1.1. This machine is mainly composed of electronic control system, weighing system, conveying device, photoelectric detection, filling device, transmission system and other parts.
1.2. The electrical control part is composed of PLC programmable computer program controller and frequency conversion speed regulator, with high integration, strong control ability and reliable operation. Application of touch screen technology makes the operation of the machine more reliable and convenient, and the man-machine interface is more friendly. Photoelectric sensors, encoders, etc. are all advanced sensing elements, so that the machine's mechatronics has a perfect performance
▼包装工艺流程 Packaging process




充填过程

输送装置将排列在进桶端的空桶输送到灌装工位,进桶检测光电计数满后,下潜气缸拉动下料嘴下潜,当下料嘴下潜到最低点后下料嘴定量充填物料,下料嘴上升,输送装置将满桶输出,出桶检测光电计数满后进入下一循环,至此充填过程完成。
▼Describe:
The conveying device conveys the empty drums arranged at the drums place to the filling station. After detected by the photoelectric ,the count is full, the submersible cylinder pulls the feeding nozzle to dive. When the feeding nozzle dives to the lowest point, the feeding nozzle quantitatively fills the material , The feeding nozzle rises, and the conveying device will output the full drum. After the detection photoelectric count is full, it enters the next cycle, and the filling process is completed.