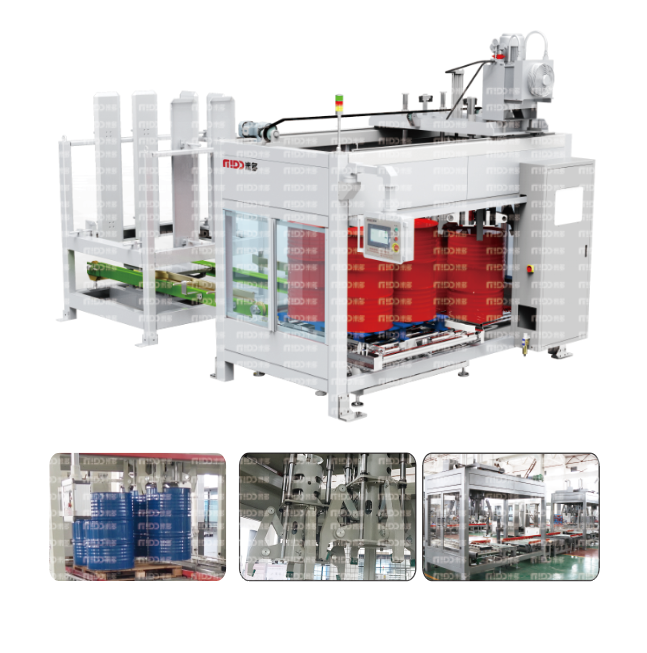 ▼功能描述:
本产品是一款机电一体化高新技术产品,适用于200L产品包装的需求。本机采用可编程控制器(PLC)进行控制,触摸屏操作,具有工作稳定可靠,操作简便,生产效率高,正常运转时无须人工干预,节省了劳动成本。
▼Describe:
---
MS200L-2 transfer palletizer is a high-tech product of mechatronics, suitable for 200L product packaging needs.
This machine adopts programmable logic controller (PLC) for control and touch screen operation. It has stable and reliable work, simple operation, high production efficiency, fully automatic operation process, no manual intervention during normal operation, saving labor costs.
▼整机主要技术参数: Main technical parameters
• 码垛方式:一抓两桶,一垛四桶 / Palletizing method:One catch two drums, one stack four drums
• 码垛规格:200L桶 / Palletizing specification:200L drum
• 生产能力 :≤120桶/时 / Production capacity:≤120 drums/hour
• 垛板尺寸(长×宽×高):根据客户尺寸 / Stack pallet size:(length × width × height) according to customer size
• 需备功率:5KW / Required power:5KW
• 电源:380V 50Hz / Power supply:380V 50Hz
• 需备气源:0.6MPa洁净稳定气源 / Required air source: 0.6MPa clean and stable air source
▼工艺结构组成: Whole machine structure
1.1、本机主要由电控系统、输送装置、光电检测、进桶装置、抓取、释放装置、升降装置、传动系统等部分组成。
1.2、电器控制部分则由PLC可编程电脑程序控制器,变频调速器组成,集成度高,控制能力强,运行可靠。应用触摸屏技术,使机器的操作更可靠、方便,人机界面更加友好。
▼Describe:
---
1.1. This machine is mainly composed of electric control system, conveying device, photoelectric detection, drum feeding device, grabbing, releasing device, lifting device, transmission system and other parts.
1.2. The electrical control part is composed of PLC programmable computer program controller and frequency conversion speed regulator, with high integration, strong control ability and reliable operation. Application of touch screen technology makes the operation of the machine more reliable and convenient, and the manmachine interface is more friendly. Photoelectric sensors, encoders, etc. are all advanced sensing elements, so that the machine's electromechanical integration has been perfected.
▼包装工艺流程:Packaging process

▼码垛过程 :
码垛机运作时将输送机输送来的产品按顺序排列码放在托盘、栈板(木质、塑胶)上,进行自动堆码,可后推出,便于叉车运至仓库储存。
▼Palletizing process :
When the palletizer is in operation, the products conveyed by the conveyor are placed on pallets and pallets (wood, plastic) according to a certain arrangement, for automatic stacking, and can be pushed out later, which is convenient for forklifts to be transported to the warehouse for storage.